Coolangatta Gold Results
Team Letizza Coolangatta Gold Report
 Ski – 14.6km; Run – 2.1km; Swim – 2.5km; Board – 6.1km; Run – 7.1km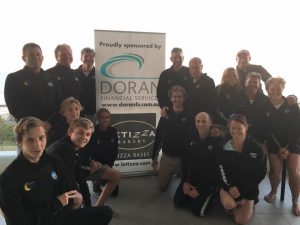 The weekend started with lunch at Rainbow Bay Club while waiting for everyone to fly in on Friday and check out our great Accommodation and it was beautiful.
Then it was time to head off to the race brief, after that it was back to the hotel to go through how Saturday (race day) was going to work. I was very happy to see everything was going to plan, as the ski paddlers came into Miami we were on the phones to update the swimmers. We then loaded the skis onto the trailer and were off to Burleigh to watch the swimmers come in to tag their board paddlers, then it was time to get the runners down to Currumbin and wait for the board paddlers to come around the point on the home straight to catch a nice little wave to tag the runner to bring the race home. Everyone but the male board paddlers waited for the last paddler to come in, we loaded the boards and were off to the finish line to see our runners cross the line.
Highlights
Our 4 ski paddlers all came in close together, Tyeson Street flew in the first run leg to give Harry Came a good chance to catch his Dad Dave and catch him he did swimming straight past him with a cheeky smile. He then tagged Callum Redrup giving a 5min lead into the board leg, with Stuart Braine behind him the race was back on. Could the master paddler catch the new young gun. We all thought so, but Callum put in an awesome paddle, Stuart could only pull back 2mins on him then Dave Brukman put in an awesome run leg and only allowed Tyeson to put another minute over the Gold winning Master Team. These three young men are only U17 and well done to their ski paddler Daryn Metti.
Our Ladies Team, how good were they? Montannah Murray started the race for the girls with a strong paddle down to Miami to tag U17's Kate Hawkings running the steps up and over into Burleigh to hand over to a new, upcoming member Alicia McCulloch who had a tough swim ahead of her, with a solid swim Alicia tagged and handed it over to Alex Fleming, and did Alex go, wow the 8th fastest female board paddler of the day. Could the girls chase down the Gold? Young Kate was then tagged and the chase was on. Kate gave it her all to hold onto the Silver medal for the girls. Well done Ladies.
A Great weekend had by all.
BIG THANKS to all helpers and our sponsor LETIZZA Pizza Bases.
Without our Sponsor this would not happen.
Letizza Results
Masters Gold Time 3:31:04.6
Ski – Tristan Howison, Swim – Dave Came, Board – Stuart Braine, Run- Dave Brukman
Open Female Silver Time 3:53:00.6
Ski – Montannah Murray, Swim – Alicia McCulloch, Board – Alex Fleming, Run – Kate Hawkings
Open Male Bronze Time 3:27:37.3
Ski – Daryn Metti, Swim – Harry Came, Board – Callum Redrup, Run – Tyeson Street
Master 14th Time 4:00:50.2
Ski – Tim Robinson, Swim – Glen Carter, Board – Mark Redrup, Run – Graham Burt